MERRY CHRISMUKKWANZAA GIFT SET
GIVE A SLICE OF NEW YORK, GIVE A GIFTZZA!
We offer the best artisan-made products in a uniquely designed and universally recognizable package (the Pizza Box!!) This clever combination allows us to customize your Giftzza for every age, personality, and taste.
Explore our latest collection and stay tuned for more exciting, original products brought to you by the most hardworking and creative minds in New York City.
Testimonials
Thank you so much for the amazing Giftzza for my Mom! Above and beyond what I expected! I was looking for a fun surprise gift for my Mom on her birthday. It was hand-delivered to her office in the proper PPE gear with care for her safety and health. Giftzza even sent me a photo of her and her Giftzza with proof of delivery. She said, "What a treat! This is such a novel and unique gift!" Making her happy was the greatest gift of all. Thank you Giftzza!

Mitzie L.
Best GIFT ever! This is one of the hottest, most exciting gifts AND fact that you can have it hand-delivered in NYC is amazing! This company nails the personal touch like no other company before it! They offer curated, personalized, customized, brandable Gifts and their service is incredible! I am obsessed with them and I have used GIFTZZA over and over and have sent them to my friends, family, and colleagues and every person has said  "oh my gosh thank you so much this is amazing!" Mark my words - this company is going to be HUUUGE.

Eva S.
Let me start by saying that me and my wife love pizza. That being said, a GIFTZZA was the perfect gift for the wedding parties. Neither me nor my wife are from this city (Me - Texas and her - Turkmenistan), so it was nice to have a little bit of NYC in our day. If you're considering something other than a GIFTZZA for your special day, FUGGEDABOUTIT!!! Customizable, made to order, and deliverable, just like it should be. There is nothing quite as unique and undoubtedly NYC as a GIFTZZA.

Thanks for the delivery.

Edris F.
Giftzza on Good Day New York!
"New York Vibes!" - Will Smith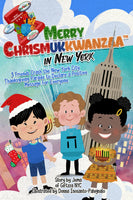 CHECK OUT OUR CHILDREN'S BOOK!
Discover a heartwarming holiday read for your children with "Merry Christmukwanzaa in New York"! Join these three friends as they sneak into the iconic NYC Thanksgiving Parade to spread a positive message of unity and kindness.
This inspiring children's book is a great way to teach kids about the value of friendship, teamwork, and standing up for what they believe in. Plus, it's a perfect way to spend quality time together as a family during the holidays.
"Merry Christmukkwanzaa in New York" is now available on Kindle, and will soon be released in paperback. Don't miss out on this delightful holiday story - order your copy today and give your child the gift of a great read and valuable life lessons.
GET YOUR COPY TODAY!
Welcome to "Your New York": Celebrating the Essence of the Empire State
Connect with local business owners, not only in NYC but throughout the entire Empire State. Join us in celebrating New York's spirit through each item in our collection—a tribute to the legacy and innovation that encapsulate this remarkable state. Browse our collection here.