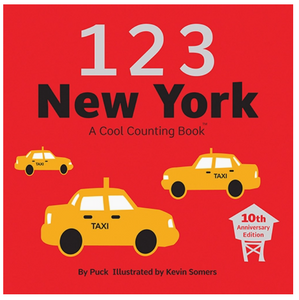 Counting has never been this cool!

Count from 1 to 10 with some of New York's most beloved symbols in this board book designed for curious children and their parents. From 1 is for the Statue of Liberty to 10 is for hot dogs, 123 New York is a unique and whimsical take on a counting book. Discover the Empire State Building, apples, subway cars, yellow taxis, and more, all depicted here using contemporary, minimalist illustrations, dazzling colors and bold, clear design.
On the final page, 123 New York includes a complete location list, in English and Spanish, where parents can locate the symbols and landmarks and plan an entertaining trip New York day, whether you're a visitor or a local!
While practicing essential number skills, kids will enjoy reading 123 New York over and over again.